Manufacturing Execution System (MES)
With Ixorio's MES you can manage your manufacturing orders efficiently. Having an insight into their costs, you can easily verify their profitability. By controlling and planning the time-consumption of orders, you are able to propose reliable lead times to your customer. Furthermore, you can select appropriate technologies while checking whether there are no shortages of any raw materials in your warehouse. You will always know what, when and how much needs to be produced.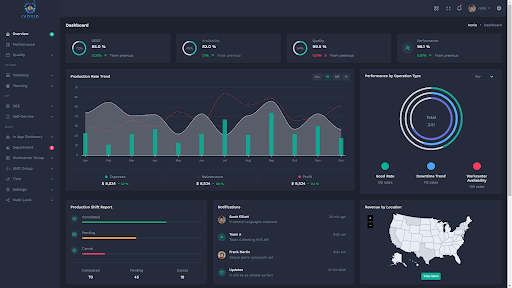 Improved quality control: As quality control information is transmitted in real time, companies with an MES can immediately halt production as soon as issues are identified. This reduces waste, scrap, overages, and re-work.
Increased uptime: An MES generates realistic production schedules by balancing personnel, material, and equipment resources. It integrates scheduling and maintenance to maximize product flow and asset utilization – increasing uptime and improving overall equipment effectiveness (OEE).
Reduced inventory: A manufacturing execution system updates inventory records with new production, scrap, and non-conforming material so that your purchasing, shipping, and scheduling departments know exactly what material is on hand at all times. This reduces just-in-case inventory and work-in-progress (WIP) inventory – saving money on manufacturing, transportation, storage, and inventory monitoring.
Paperless shop floor: Eliminating paperwork means there is less chance for human error. It also means that the data recorded from the shop floor is immediately available to decision-makers across all integrated systems, to inform real-time decision-making.
Improved product tracking and genealogy: An MES follows the entire production cycle from beginning to end, grouping final parts or batches with the corresponding manufacturing data. This data allows for improved regulatory compliance for manufacturers that must conform to government or industry regulations.
Feeds – Production updates, notifications, alerts

Global OEE – Productivity, Availability, Quality, OEE

KPIS – Total Finished Products, Working, Produced Waste, Stopped

Other: Ongoing production orders, Finished Production Orders
Charts

(Type) Productivity, Waste, Quantity, Time, OEE, Downtime

Date Range

Production Order

Section

Worker

Machine

Product Family

Product

Operation

Total Minutes